Are you looking for semi-passive income with a huge profit potential? Consider a Career in Vending Machines!
Vending demand is increasing as more U.S. employees work from home and large companies scale back on food services. Spending less time in the office, quick access to snacks, food and beverages is an urgent need in many industries. Leaving the office campus for refreshments affects production, making vending an ideal solution!
If you're looking for a way to make great money, work on your own schedule and make people happy, vending is the answer!
As the owner/operator of your own vending machine business, you'll enjoy the freedom of being your own boss while also using your skills and insights to provide your customers with exceptional snack and beverage options, increase customer service and profitability, and be prepared to grow, using your creativity to find and establish new opportunities. Whether you wish to add a machine to your existing business, or start a vending business of you own, the opportunities are plentiful!
Running a vending business includes:
selecting and securing locations for Vending Machine placement, purchasing and placing vending equipment,
choosing and replenishing products,
keeping your machines in good working order, and
having FUN while you work!
According to GrandviewResearch.com, 2021, the United States Vending Machine Market Size Value will continue to rise, from USD 56.28 Billion in 2022 to USD 129.40 Billion in 2030.
We're Here to Help
Once you've secured a location, Vendors Source, Inc. is here to help with the rest! We'll assist you in choosing vending machines that will be profitable with your customer base, filling them with popular snack and beverage items, developing a replenishment product program based on "popular" and seasonal products, and maintaining your machines.
Here's what to expect:
First and foremost, get familiar with the equipment and products available through Vendors Source, Inc.
Keep your eyes open for opportunities, including growing industries as well as established businesses.
Set your initial goals: Consider driving distance between potential locations, as well as your own schedule. How many machines would you like to place?
Develop a relationship with potential placement business owners/managers.
Finding Vending Machine Locations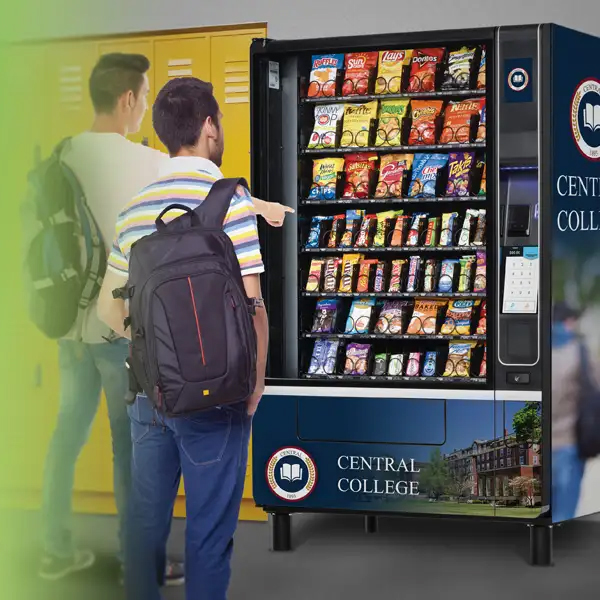 Flex your creativity! Have you visited a business, waiting room, gym, apartment building, beauty salon or barber shop, hotel, service center, business office, shopping facility, handyman center, truck stop, print shop, or any other public location that could use a vending machine; or one that has an older machine that could use an upgrade? Have you encountered vending machines that are out of product or have long needed repair?
These are all potential opportunities for an expert vending machine operator! "Foot traffic" and visibility are the secret—look for locations where people are waiting for service, working, or passing through, and not within easy access to convenient quick snack and beverage options.
Once you've identified opportunities, form your pitch. Consider the customer base and propose vending products that would do well at that location. Get creative here too! By improving the availability of refreshments, you also will improve the customer satisfaction of the businesses that you serve. Consider unique solutions: Would this location benefit by a Healthy Vending option? Warm beverages? Water and Soft Drinks? Children's favorite snacks?
Contact the owner or business manager of your target opportunity locations to discuss your offer. Be prepared with a general understanding of new and used Vending Equipment and Vending Product information, as well as business cards or a professional flyer that includes your contact information, and highlights your dedication to satisfaction. This is where your personal business style shines! Learn the challenges faced by your potential customer, so you can be confident that you will be saving the company from the time and expense of managing their own vending machines. With Vendors Source, Inc. on your side, you'll have the support, products and equipment that you need to be successful!
How We Can Help
As a benefit to new Vending Machine Business Owners, we'll assist you in finding the vending machine accessories, payment options, and products that will be most beneficial to your customer base. Then we'll deliver your machine to your new Detroit, Michigan or Toledo, Ohio location, teach you basic maintenance of your Vending Machine, and stand behind you with fast access to vending snacks and beverages, expert service, and top-quality vending machine parts.
We Also Offer Financing to Help You Get Started!
We welcome you to stop by our 30,000 square foot vending product and vending machine warehouse (no membership fee!) to get familiar with our huge inventory. Ask us about pricing and financing options, as well as ordering replenishment products so they are ready when you are. Your goal: to develop a placement and replenishment strategy that sends money straight to your bank account while you focus on other areas of your life.
We have decades of experience in the vending business and look forward to using it to help your own business toward success!